Website Design &
Development
Put Your Website to Work
Your Website is the Best Marketing Tool You Have.

Make sure it's living up to it's potential!
Do your customers know exactly what you do, how you help solve their problems and what they need to do to utilize your services? If not, your leads may be leaving before you even know you had them.
Your website needs to have the proper balance of beauty, clarity, intrigue and command. Every choice you make on your site plays a subconscious role in whether your site visitor stays and converts or leaves never to return.
A good website won't just utilize beautiful design. A good website looks to technical aspects to help support optimal functionality – seo, hosting providers, cms platforms, and more.
Every business owner wants to stay ahead of their competitors. In this digital era, you want to take advantage of the internet to expand your market and attract new customers. Setting up a website that acts as a simple brochure is one way to do that. However, there is more to it than just filling in a basic template for your company or business.
A web design is more than a tool that informs your target audience what you do, offer, or how they can get in touch with you. While these features are key, the main aim of a web design is to convert leads into sales. You need to work with an experienced website development company and know what features to ask for to make your website successful.
At 6iT Digital Marketing, we rely on our expert web design and development team that works from all over the United States on projects that span the globe. 
What We Offer at 6iT Digital Marketing
The web design process involves two skills as the name suggests: web design and web development. They may sound similar, but web design and web development are two different concepts. Web design focuses on how a website looks and feels while web development focuses on how it functions. Our UX designers' objective is to design systems that offer a great experience for users. 
Our web design team uses the latest design tools to create your website's visual elements. We incorporate branded images, fonts, layouts, and colors. These elements are important for your website's usability and branding and create pleasing first impressions for users. 
Our web development team are like mechanics who work "under the hood" of your website. They ensure your website is user-friendly by creating a navigation menu, contact forms, text, and buttons using the latest programming languages. With a responsive design, your customers can easily access the pages and information they need. Our back-end developers also ensure servers, databases, and applications work harmoniously to keep your website operating smoothly.
Save time and money by working with us to help you create a new website or redesign your existing website. 
Top Features of Our Web Design and Development Package
Rigorous analysis and reporting

Application development

Ecommerce development

Responsive web design

Easy-to-use CMS

SEO 

Collaborative design process
How Businesses Benefit from Our Web Design and Development Services

Attract More Customers with a Clean Website design
Our web designers have years of experience when it comes to web design. We help our clients create clean and appealing websites that draw attention from customers. Our sites are both visually engaging and easy to read. Our design team uses the minimalist approach to ensure visitors aren't overwhelmed by walls of text or distracting graphics.
A clean website design helps your viewers to focus more on your brand and its value. Do you know that customers judge the quality of your brand by your web design? Working with us will ensure you provide a positive user experience that will guarantee repeat customers.

Expand Your Market Share
Since the inception of the internet, web developers have changed how the business industry works. Every business with a website is in a competition to rank highly in SERPs (search engine result pages).
As a web design company, we know the tricks that will help your websites draw the attention of your target audience. Through our SEO (search engine optimization) services, your website will not only rank high but you will also retain your much-needed customers.

Increase Sales
Your business needs profits to continue operations. A great way to grow profits is to increase the number of sales you make. We help our clients create websites that effectively attract more sales. After the COVID-19 pandemic, businesses have been forced to restrategize how they operate, and that includes conducting their businesses online.
At 6IT Digital Marketing, we create web designs that capitalize on online sales. We develop a user interface that shows your clients that your brand is dedicated to offering exemplary information, products, and services. This way you win over more customers and boost gross sales.

Retain Loyal Customers
Research shows that loyal customers or repeat clients play a huge role in ensuring a business's success. It is hard to retain loyal customers if you don't have an effective strategy in place. This is where we come in.
Our developers retrieve metrics from your site to help us monitor the activities of your customers. This helps us identify customers that continuously buy from you. We provide a list of loyal customers and advise you on creative ways to retain them.

Questions You Should Ask Your Web Designer Before Your Next Web design Project
Do you offer social media services?
At 6iT Digital Marketing, we offer social media services such as response and engagement, video creation, strategy, paid campaigns, online listings, service management, social media management, and social media setup and optimization.
How can you help with brand development and marketing strategy?
We help our clients figure out their unique selling proposition to develop their brands and improve their marketing strategies. Services we offer include brand material creation, marketing campaign strategies, brand guidelines, comprehensive marketing strategies, brand development, and logo development.
Can you help me rank higher on Google?
It's not enough to have a well-designed website. You need to ensure your customers or target audience can easily find you. Take advantage of our SEO services to ensure your website content is at the top of the search engine results.
At 6iT Digital Marketing, we offer SEO services including competition SEO research, keyword research and development, monthly SEO maintenance, SEO training for company writers, SEO content creation, and SEO website audits.
Can you redesign my existing website?
Yes, we can! Our team is more than happy to revamp your current website to make it better and more effective. We will assign a web developer to ensure your project is successful.
Choose 6iT Digital Marketing for Your Website Development and Design Projects
Our team of web designers includes realists, optimists, analysts, and of course nerds that enjoy doing what they do. We just don't design and develop quality websites; we take pride in helping our clients get the exposure they seek and see to it that their businesses succeed. Our core values as a web design company include: quality comes first, never be afraid to try something new, always give value, honesty above all, and open communication.
For more information about our web design and development services, don't hesitate to call 719.659.0891. You can also contact us via info@sixitmarketing.com whether you want a new website or website redesign!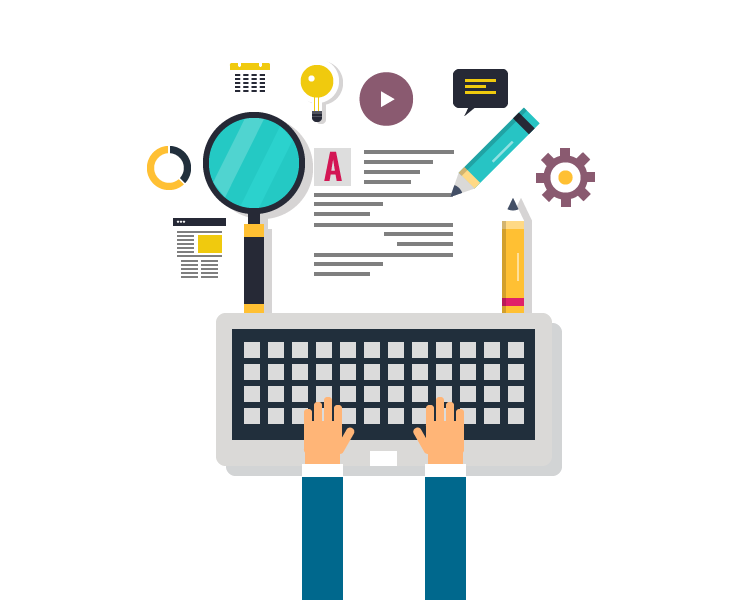 Expertly communicate your brand

Are built with best practices in all technical aspects
Are clear and engaging

Are easy to maintain

What does your website communicate about your brand?

Website Design & Development

Website Content Development

Website Project Management

Let's Get Started
Ready to Create a Killer Website?